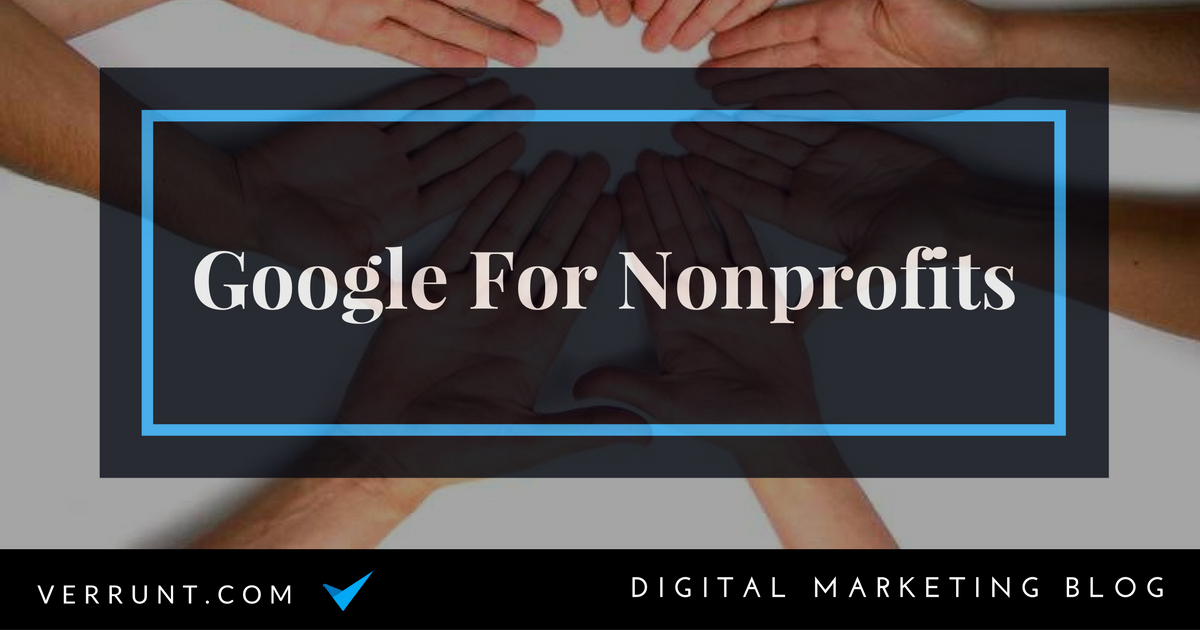 Google has been very generous in offering $10,000 per month to advertise your non profit in Google AdWords. Are You Making Use of Free Google Advertising? Most of the non profits don't. We do understand you. Most of the non profits don't have time to manage their AdWords accounts by themselves and they usually run on a shoestring budget, thereby hiring an AdWords account manager is out of the league.
Google Grants – What is that?
To help the stories of non-profits heard, Google offers $10,000 per month of advertising spend, unlimited email access on your own branded domain, video conference calls for up to 15 participants at a time on your desktop or mobile device, YouTube non profit program, free 24/7 support by phone, chat and email and many more. You can get the full details here.
However, the most attractive of the lot is Google grants for advertising. Let's see how to make the best use of it.
Google grants can be used
To reach potential donors and volunteers when they are searching on Google.
Raise awareness about your cause.
Promote your non profit website on Google.
Getting Started With Google Grants
See if you're Eligible
Your organization should hold a valid charity status. This varies from country to country.
You should agree to Google grants required certifications. You need to tell Google how the donations will be used.
Your non profit should have a functional website with adequate details about your non-profit.
Apply for 'Google for non-profits'
Visit this page and select your country. You will get country specific URL for applying for the program. Once clicked, you will be taken to a page with a form where you need to enter the details of your non-profit.


Need Help in Setting up and Managing Google Ad Grants?
Creating Your AdWords Account
You can create 2 types of AdWords accounts to run ads using Google grants: AdWords Express account and normal AdWords account. Create AdWords Express account only if you don't have someone or a few minutes of your time to manage the AdWords account. It runs as set and forget model and usually don't provide great results. It is recommended to create normal AdWords account, where you can create as many campaigns as you like with specific objectives for each campaigns.
Create the AdWords account of your preference only using the links below.
Create AdWords Account for Google Grants
Create AdWords Express Account for Google Grants
Add US Dollar as your currency irrespective of your location and local currency. If you add other currency, you will need to start the process all over again.
You might get alerts to add billing information. Ignore all these alerts. If billing detail is added, the account can't be used for Google grants. You have to start over again.
Create Your First Campaign (For Normal AdWords Account)
To submit your ad grants application, you need to have at least 1 campaign. To create your first Google AdWords campaign, follow the below steps.
Campaign Settings
 Click "Create Campaign" and under Type select "Search Network Only"
Under Networks, un tick "Include Search Partners". Your ads by default are eligible to run only on search network and not on Google search partners.
Under Location and Languages choose whatever that is appropriate for your non profit.
For "Bid Strategy" select "I'll manually set my bids for clicks" and set the default bid to $2 or less.
Set your daily budget not higher than $329 which roughly translates to $10,000 per month. If you have multiple campaigns, make sure that the collective budget is not greater than $329 per day.
Ad Groups, Ads and Keywords
Research for keywords related to your non-profit using keyword planner tool.
Group similar keywords into ad groups.
Write at least 3 ads per ad group. Keep testing different ad variations.
Final URL of the ad should point to your website and not to any of your social media properties. Also if your website is created with other 3rd parties like WordPress.com, Wix.com etc., they are not eligible to be added as Final URLs.
Once the above steps are done, submit your account for review.
Create Your First Campaign (For AdWords Express Account)
Creating campaign in AdWords Express account is pretty straightforward, but it doesn't offer much options for customizing. Follow the below steps to set up your AdWords express account for Goolge grants and submit it for review.
Provide Business Info: Add your non profit website and the name of your non-profit.
You can target the ads to people living in a certain distance from your organization or you can target specific cities, regions or countries.
Choose the language of your audience.
Under "Show your ad to people looking for," select the options that describe your nonprofit organization.
Create your ad following the word count that is provided.
Set your daily budget to $329.
Upon check out, you should see a message saying "This is an Ad Grants account and no billing setup is required". If you don't see this message, it means that you have created the account without following the link above. In that case, you have to create a new AdWords account using the above link.
Finish set up and your account will be sent for review.
Usually the approval process takes around 5 business days and you should see a mail with the subject, "Your Ad Grants account is approved"
Restrictions in a Google Grants Account
You can advertise only in Google.com. Search partners can't be included.
You can't advertise on the Google Display Network.
No Display Network – No remarketing.
You can't set a Max CPC of greater than $2 for your keywords.
Your ad will be shown only below the ads of paying advertisers.
The maximum daily budget that you can set is $329.
How to Effectively Use Google Grants?
Because of the above restrictions on Google Grants account, it is a bit difficult to spend $10k per month. It is definitely a waste of precious gift and effort should be taken to use it to the fullest. On an average Google grants accounts spend only $330 per month, which is less than 5% of the potential. The below tips will help you spend your ad grant budget effectively.
Expand Your Keyword List
A lot of non profits make the mistake of using only a few core terms as keywords. This results in a fewer impressions and clicks. You need to have a huge list of related long tail keywords. Make use of Google keyword planner to come up with keyword lists. Also you shouldn't target only action keywords. For example, if your non profit works for poverty alleviation, in addition to targeting keywords like "donate to poverty", you must also target keywords like "poverty in [insert country]", "effects of poverty" etc., This helps in reaching to people who care about your cause but aren't actively looking to donate.
Create Multiple Campaigns
Most non profits make the mistake of creating setting up 1 campaign, running it forever and expecting results out of it. That's never going to provide the desired results. Below are a few campaigns that you can create.
Brand Campaign with your nonprofit's name and variations as keyword.
If you support multiple causes, create separate campaigns targeting each of them.
Create separate campaigns aligned to your objectives. There can be separate campaigns geared towards donation, recruiting volunteers, collecting contact info, promoting an event, general awareness etc.,
Use all Keyword Match Types
Use broad, broad match modifier, phrase and exact match variations of the same keyword. Create separate campaigns for individual match types. So, if you have a list of keywords to promote an upcoming event, clone the keywords into all match types and have separate campaigns for them like below.
Kill Poverty Dec 24 Event | Broad
Kill Poverty Dec 24 Event | BMM
Kill Poverty Dec 24 Event | Phrase
Kill Poverty Dec 24 Event | Exact
Remember each of these campaigns have to be further divided into any number of ad groups. Each ad group should contain related keywords with 3-4 ads.
Help: For newbies who have very less or no idea about keyword match types, here is the Google help link.
Write Effective Ad Copy
This is probably the first impression that you have with your potential donors or volunteers or patron. It definitely should be the best. Put in effort and time to write ads that induce a click. No ad is perfect and they should be tested continuously to improve performance. Have at least 2-4 ad copies per ad group.
Send Visitors to a Targeted Landing Page
Except for the brand campaign, it is not advisable to send visitors to your home page. Send them to pages that are most relevant to the keywords they searched for. If you don't have relevant pages for those keywords, create them.
Keep Your Forms Short
Nothing annoys user more than a long form with a number of fields that aren't required at all. Keep your forms and subscription boxes short and to the point. Don't ask for details that you don't need.
Never Forget Mobile
We live in a mobile first world. More than 50% of a site's visits come from mobile devices. Don't ignore mobile in your campaigns. Create ads specific to mobile and make your landing pages and website mobile responsive.
Use Negative Keywords Sparingly
Block only search terms that are completely irrelevant to your nonprofit. Phrase and Exact match campaigns most probably will not need much care in this aspect. Keep an eye out on search terms of broad and broad match modifier campaigns. If there are any completely irrelevant search queries, add them as negatives. Remember you have $10k to spend per month.
Use all Ad Extensions
I see a lot of paid AdWords account not making use of ad extensions. You need to get the most space in the search engine result page. Set up all ad extensions.
Track Conversions
Even though your advertising spend is free, you definitely don't want to waste it. To spend more effectively you should know what works and what doesn't. Set up conversion tracking in AdWords to know which keyword does well. If you use Google Analytics, link Google analytics and AdWords and use goals to effectively track the effectiveness of your campaigns.
Use Geo Targeting
From location reports if you see that a particular location or country is performing well than the others, add those locations and increase the bids. Or if you want the ads to be more relevant to the geo, create geo specific campaigns.
Maintaining Your Eligibility
You should log in to your account at least once in a month.
All ads should direct users only to your website URL that you have provided during the application process.
You can't sell products in your website, unless 100% of the proceeds is used for supporting your nonprofit.
You can't have adsense or ads of other networks. You aren't allowed to place affiliate links in your site.
You can't send traffic to your social media properties like Facebook or Twitter.
If you need to advertise multiple domains, you should send a request to Google here.
Are you using Google grants for your nonprofit? Do you like to add something here? Share your thoughts as comments.
Need help? Feel free to contact us here!